ADI Instructional Materials in a Browser-Based Application
The ADI Learning Hub is a browser-based application for teachers and students in grades 3-12. This application can be used for in-person, remote, or hybrid instruction in math or science. At the core of the ADI Learning Hub are investigations that give students an opportunity to use the core ideas and practices of science or mathematics to make sense of the world around them.
What is it and how does it work?
Teachers with a subscription to the ADI Learning Hub can create up to eight different classes and add up to 40 students to each class. The teacher can then pick an investigation from an extensive and growing library of pre-made options and assign it to a class. The teacher then sets each stage within the investigation for either in-person or remote instruction and assigns a due date for each stage. Students can work through each stage of the assigned investigation in class or at home.
Features for Students
Each investigation in the ADI Learning Hub gives students an opportunity to use the core ideas and practices of science or math to make sense of the world. These investigations allow students to take ownership of their learning instead of just passively viewing a whole-class presentation or a video tutorial and then completing a set of practice problems. Students can also see their progress and interact with their classmates and their teacher using tools built right into the application.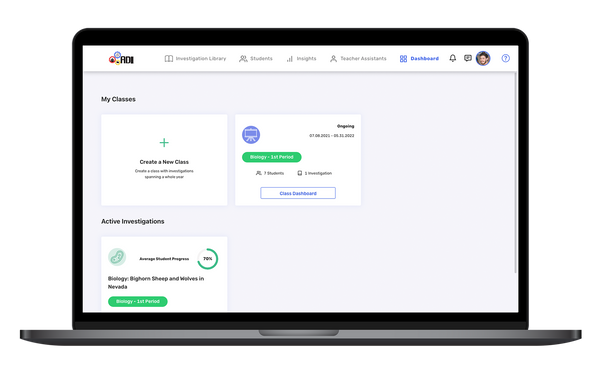 Features for Teachers
Teachers can monitor student progress as they work through an investigation, view submissions, see and edit comments made between students, offer feedback, and assign grades. Teachers can also switch between remote and in-person instruction as needed at any point during an investigation. The ADI Learning Hub will alert the teacher when a student misses a deadline and makes it easy to message that student.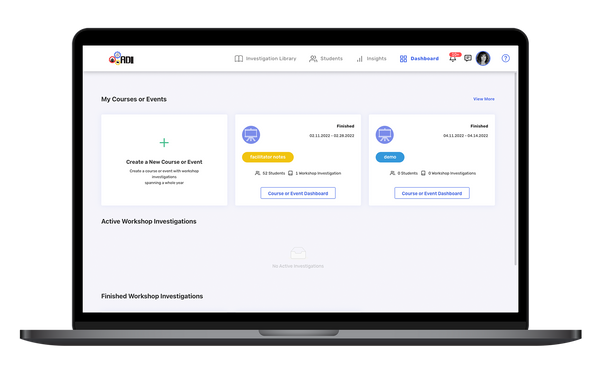 Features for Organizations
Districts and schools can purchase multiple subscriptions and assign them to teachers so they can use the ADI Learning Hub as part of a remote, in-person, or hybrid course. The investigations can be used as a supplemental resource or they can be formally integrated into an existing math or science curriculum. The application is browser-based and runs on Chrome, Safari, or Firefox so teachers and students can use a PC, Mac, or Chromebook computer to access the application. It can be used on a mobile device that runs IOX or Android.

Ready to start using the ADI Learning Hub?
Schedule a demo with one of our program specialists to learn more about purchasing subscriptions.

Want to learn more about what we offer?
Schedule a meeting with one of our program specialists to learn more about how we can help you.